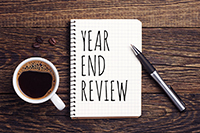 2021 Year End Review
---
2021 is coming to an end and it was a big one for sure. The 4th edition of my C# Fundamentals book came out and it is proving to be the most popular one yet. I often get feedback on the book and wanted to thank everybody for helping make every edition better. Below is a chart illustrating book sales per year.
I'm also excited to announce the new unQbd.com streaming service that is launching on 4/04/2022. 2022 is going to be a big year for sure!
---
Congrats on a great year!